Utilization Review - Insurance
Peer Review - Telephonic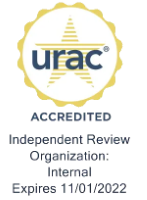 Peer Review – Telephonic SFUR physician panelists assist health plans utilizing the health plan evidence-based criteria for delegated and non-delegated initial reviews, telephonic peer consultations, appeals for pre-service, concurrent Utilization Reviews and post-service requests for authorization of services, with the objective getting closure on quality and necessity of care.
SFUR has been providing high quality Utilization and Peer Review Services for 25+ years and is a member of the National Association of Independent Review Organizations (NAIRO).
SFUR is URAC Accredited, the highest standard in the industry. We employ over 600 board certified Physician Specialists who we credential to the highest URAC standards every 2 years. Our clients count on our exceptional medical knowledge, impartial reporting and timely delivery.
In SFUR's 30 plus year history, over 3000 telephonic peer reviews have been conducted to various insurance plans throughout the United States.
Peer Review is used to make final judgments about quality of care in many quality assurance activities.
To overcome the low reliability of Peer Review, input from several reviewers is often recommended to point out overlooked information or allow for reconsideration of opinions and thus improve reliability.
Our team of medical and financial professionals partner with insurance payers and legal firms to enhance their position to resolve complex billing and medical utilization disputes.
SFUR is a proven and affordable source of 3rd party medical Peer Reviews.
Rapid turnaround: Request 24 hours, 5 days, or 10 days.
Board certified specialist will testify at fair hearing on request.
URAC Accredited Independent Review Organization means client benefits from standards.
All reports are vetted by a medical knowledge reviewer and signed by reviewing physician specialist.
Best Prices of the Certified Independent Review Organizations.
OUR CURRENT PHYSICIAN SPECIALTIES
Anesthesia
Bariatric Surgery
Cardiology
Cardiothoracic Surgery
Colon Rectal Surgery
Emergency Medicine
Family Practice
Gastroenterology
General Surgery
Hematology
Infectious Disease
Internal Medicine
Interventional Cardiology
Neonatology
Nephrology
Neurology
Neurosurgery
OBGYN
Ophthalmology
Orthopedic Surgery
Otolaryngology
Pediatrics
Plastic Surgery
Psychiatry
Pulmonology
Polysomnography Radiation Oncology
Radiation Oncology
Thoracic Surgery
Urology
Vascular Surgery